« Obituaries | Edward Francis Egan
Edward Francis Egan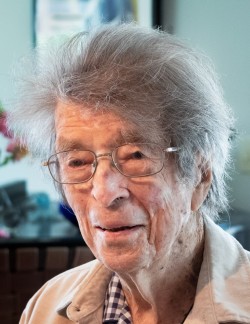 Date of Death: July 15, 2020
Date of Birth: April 28, 1919
Biography:
"Light up a cigarette, settle yourself comfortably on your sack and get some soft music on the radio for I have a story to tell."  So began an April 1945 handwritten letter from Captain Edward F. Egan to one Lt. Doris Cunningham, a red-headed looker from New York whom he'd met four years earlier on a blind date at the still quite new George Washington Bridge, but then an Army nurse half way around the world, stationed near Bournemouth, England.
Captain Egan wrote his eleven-page letter to describe for Doris his extraordinary adventure after the B-25 he was riding in crash landed on the Philippines Island of Catanduanes.  Ed and some of the others suffered mostly minor injuries, but all were safely pulled out of the plane by the islanders, who were very happy to see the American airmen, whom they insisted on honoring with a feast and a parade.  Three days later, the B-25 crew sailed with the Filipinos in their twin hull outrigger to reach the nearest American army base.  After midnight they were picked up by the American destroyer Cunningham.
The young captain with a way with words returned home from the war in 1945. In the years that followed he married Doris, founded Egan Machinery Company with his father and brother, traveled to six continents, pursued music and sports, and above all, cultivated a deep love for his wife and family.  He instilled in his five children his own qualities of curiosity, fairness, integrity, generosity, and adventure.
Ed died peacefully in Brunswick, Maine on July 15 at age 101. He and Doris had recently celebrated their 74th wedding anniversary.  Till the very end he was still swapping stories with his red-headed looker. Settle yourself comfortably, get some soft music on.
Edward Francis Egan was born on April 28, 1919 in Jersey City, New Jersey, to Francis and Louise Egan. He was salutatorian in the class of 1940 at Stevens Institute of Technology, where he earned a mechanical engineering degree. After graduation, he briefly worked for Ross Engineering.  He wanted to enlist in the Army Air Corps a month before Pearl Harbor.  He asked Harvey Davis, the president of Stevens for a letter of recommendation.  Mr. Davis wrote that "while I feel that [Ed] might do the country even more good by staying in industry, I am much impressed by the sober seriousness with which he seems to be making his decision.  I recommend him without qualification".  Ed served in the Army Air Corps in the South Pacific until VJ day in August 1945.  He was discharged from the army as a Captain on Dec. 25, 1945.  He married Doris at St Patrick's cathedral less than a month later.
Later that year, Ed, his brother Larry and his father Frank started Frank W. Egan & Company in the attic of Frank Egan's house in Bound Brook, New Jersey.  They hired a secretary and a draftsman, and offered only limited services:  consulting, and the design of paper coating machinery.  They got an order from the Puget Sound Pulp and Timber company in Bellingham, Washington—3,000 miles from their cramped and chilly attic offices—and they were off.
In 1947, the company received their first order for a complete machine, which they designed in-house, and then contracted out the machining and fabrication.  In 1950, they appointed their first foreign sales representative, in Italy.  By 1951, they were building their own machines. By its fifth anniversary, the company had grown to 10 employees.  By the 10th year, just before Ed took over as president, there were 105.
To the new company, Ed contributed both his engineering talents—he received five patents for various innovations in winding, cutting, and slitting materials in the company's web machinery—and his management skills as company president.  Under his leadership, the company diversified into a variety of product lines—such as machinery for coating, converting, extrusion, thermoforming, and molding plastics—and signed licensing and sales agreements with firms around the world—in Italy, Germany, England, France, Argentina, and Japan. Egan Machinery was known as an innovator in many technologies.  By 1966, the company that had started out in a drafty attic had opened two plants with a total of 178,000 square feet and with more than 500 employees. 
Ed led the company the way he lived his life, with generosity, integrity and fairness.  The company provided good benefits and an early profit-sharing plan.  "Egan Machinery was a humble company," said one longtime employee.  Ed's office was open, "you could walk in any time."  He was supportive of his employees—he gave them opportunities they would not otherwise have had.  It was an education working for Ed, they said, you learned more than you had in your formal classes.  Employees stayed a long time at Egan.  Learning of his death, more than one said, "he was the best manager I ever saw" and "Egan was the best company I ever worked for."
Ed retired from the company he had helped found in 1982.
Of course there was more to Ed than his business success.  He cast a wide net.  He was always adventurous, always a musician.  In 1939, as war clouds were gathering, he played guitar in a college band on the Mauretania on a voyage to England.  Hitler invaded Poland, and England declared war the day after his ship docked.  He came back as soon as possible—on the same ship as it turned out, this time with the portlights blacked out for wartime security
Ed sang in the Stevens glee club.  He sang in the church choir.  Besides the guitar, he played the piano—at home and in community musicals—often accompanied by his songbird wife. He and Doris loved music and they loved dancing.  They had grown up in the big band era, and their chops on the dance floor were always a showstopper.  They danced on that first blind date, and they were still dancing at his 100th birthday, nearly eighty years later.
He was a curious man, forever interested in learning something new.  He learned to ski when he was in college, when the sport was little known in the United States, and a weekend ski getaway involved a very long and very cold overnight trip by train to upstate New York   He learned to fly. Any new gadget or piece of machinery, he wanted to know how it worked. He had an insatiable appetite for travel.  Egan Machinery's innovative patents led to international business travel, and for Ed, the chance to appreciate foreign cultures, food, and wine. 
Along with his guiding values, he passed on to his children this open-hearted joy he took in the world in all its variety:  joy in music, theater, and the arts; joy in skiing, especially in Stowe, Vermont; joy in sailing on the Manasquan River; joy in traveling and seeing the world, whether in big cities or down back roads, in Europe or the American West, the Far East or the Pacific Islands.
And he was committed to voluntary service.  For many years, he served on the boards of Somerset Medical Center and the Somerset Savings and Loan Association.  He was particularly devoted to his alma mater, and served on the Stevens Institute Board of Trustees, was a member of the Stevens Alumni Association's Executive Committee and was an enthusiastic participant in the Stevens Enterprise Forum, a series of conferences meant to foster the exchange of ideas on building successful businesses. Stevens recognized Ed's many contributions—to business, industry, and to Stevens itself—with an honorary doctorate in 1985.
Till the end of his days, he would often say, "I married a wonderful woman and I am a happy old man."
Settle yourself comfortably, get some soft music on for I have a story to tell.  Till the end of his days, he and this wonderful woman were still swapping stories.  He was a happy old man.
Edward Egan is survived by his wife and five children—Michael, Nancy, Kathleen, Patricia and Frank—as well as 11 grandchildren, five great-grandchildren, and the children of his brother Larry—David, Paul and Sally.  
A funeral mass will be held at St. Denis Catholic Church in Manasquan, NJ on August 31 at 9:30 am. 
At the families request they do not wish to receive flowers as memorial donations.