« Obituaries | Ray LeRoy Cole
Ray LeRoy Cole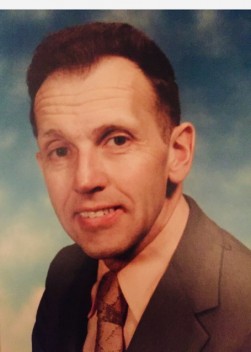 Date of Death: February 4, 2019
Date of Birth: November 20, 1926
Biography:
Ray LeRoy Cole, age 92, passed away on February 4, 2019 at Clover Manor in Auburn, Maine.
Ray was born in Port Jervis, New York on Nov 20, 1926 to Raymond and Clara (Smith) Cole. He
graduated from Port Jervis high school in 1944 and then: worked full-time on the Erie Railroad for four years before going to college. He earned Bachelors and Masters Degrees in education at the state
university in Albany, New York.
Ray met Joan Marie Carnie while both participated in a thespian society. They married on June 27,
1954 in Belleville, New Jersey and lived the next 47 years in Warwick, New York where they raised a
family.
Ray first worked in public education as a high school history teacher in Florida and Middletown, New
York before being hired, at age 31, as superintendent off schools in Greenwood Lake, New York, a
position he held for 26 years until retirement. Over the years Ray eschewed opportunities for higher
pay and professional advancement in order to keep his three children in the same community
throughout their youth - something very important to him.
In the fall of 1959, Ray and his brother bought a large camp property on Great Pond in Belgrade
Lakes, Maine thus starting a long-term familial bond with the state that continues today. Ray and Joan
moved to Maine year-round in 2001, living in Bethel until the ravages of age put them both in a
nursing home last year.
Throughout life Ray did his honest best to meet the responsibilities of being a son, a husband and a
father. He was a gentleman who never shirked a task, and never complained aloud or spoke harshly to
others. Nonetheless he could be tough as nails when it mattered and remarked on more than one
occasion that "while discretion is the better part of valor, they also have to know that you can bite."
We remember Ray Cole as a smart guy, full of clever, insightful quips, and as someone who marveled
at life's simple, elegant things. He savored learning and appreciated knowledge - all the while reading
a wide variety of materials and literature in its pursuit. Sadly a decade of dementia extinguished this
light well ahead of his death.
Ray is predeceased by his parents, an older brother Russell (wife Loretta), and a niece Jeanne. He is
survived by his wife of 64 years, oldest daughter Susan Samble (husband Paul) of Springfield,
Massachusetts, son Scott (wife Michele) of Bethel, Maine, youngest daughter Janice Cole of Bristol,
I
Connecticut, two grandchildren and two great grandchildren. There will be no visiting hours or service.
A celebration weekend will be held at the camp on Great Pond when warm weather returns.