« Obituaries | Sandra "Hope" Colby
Sandra "Hope" Colby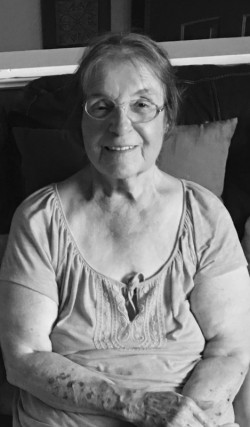 Date of Death: January 11, 2018
Date of Birth: September 21, 1943
Biography:
Sandra "Hope" Colby, age 74, of Gardiner, passed away on January 11th surrounded by her daughters.  She is the Widow of Dana Colby who passed away in 1990.
Hope was born in Lincoln, Maine in 1943 the daughter of Clyde Shorey Sr. and Madeline Shorey.  She grew up in Burlington Maine and is a graduate of Lee Academy.  She spent the majority of her later life in Gardiner.
Hope loved to cook, she is famous for too many dishes to mention but everything she made was made with love and a decent amount of butter.  She enjoyed listening to country music and attended concerts.  She loved going to fairs, watching horse pulling and really appreciated a perfectly cooked Italian sausage followed by a fried dough. She loved going for rides and seeing the ocean but what she loved most was spending time with her family.  She worked outside the home her favorite job titles were Mom, Gram, Nummie and Nana (our kids couldn't decide on a name) and she also loved going back to Burlington on the 4th of July and seeing her extended family and friends.      
Hope spent the majority of her work life in Hospitals and Nursing Homes.  She started as a dietary aide and put herself through school and became a Food Service Supervisor.  She ran the kitchens at Merrill Memorial Manor, Robinson's Nursing Home and even traveled to Cape Elizabeth to work at Woodlands Senior Living Community before she retired to care for her grandchildren full-time. 
In addition to her husband she is pre-deceased by her Parents, Her Brother Orland Shorey, Her Sisters Lenora Priest and Barbara Smith.  She is survived by her three Daughters, Barbara Chase, Donna Twist and her husband David Twist, Lenora Cote and her husband Bryan Cote all of Gardiner.  Five Grandchildren Joel Twist and his wife Lindsey Twist, Jacie Lash and Her Husband Matthew Lash, Katelyn Colby and her partner Rod Frost, Joely Cote and Finnegan Cote all of Gardiner.  Two Great Grandchildren Greysin Lash and Julia Twist of Gardiner. A brother Clyde Shorey Jr. and his wife Glenda of Burlington, Two Sisters Lora Harding of Lowell, Lillian Thomas of Howland, Sister in Law Suzanne Shorey of Burlington and many special nieces and nephews. There are too many to name but she thought of a lot of them as her surrogate children.
A celebration of life will be held on Saturday, January 20th from 1-4 at the American Legion Post 4, 6 Griffin Street, Gardiner Maine 04345.