« Obituaries | Gerald Lloyd Clark
Gerald Lloyd Clark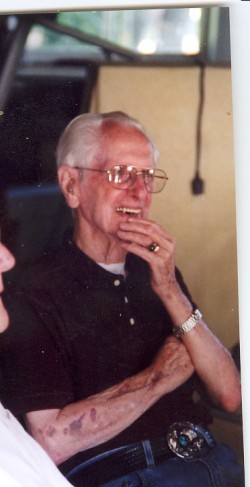 Date of Death: May 30, 2012
Date of Birth: November 15, 1922
Biography:
Hallowell – Gerald Lloyd Clark, 89, born November 15, 1922 to Marion and Norman Clark died peacefully in his home on May 30, 2012.
He married Alzada Mae Hart on May 12, 1955.
Jerry served his country in the Army during WWII where he received a Purple Heart and 2 Bronze Stars.
He provided a multitude of opportunities to his family, traveling around the world during his 30 years working for the U.S. Post Exchange as a food operations manager.
After retirement he spent much of his time traveling with his lovely wife Alzada across the country or on long drives up the Maine coast enjoying the scenery. He loved spending time with his grandchildren and great-grandchildren. You could often find him sitting in his favorite chair reading his favorite book.
He was predeceased in death by his wife of 55 years, Alzada; by his sons Donald and Greg; and brother Winn. He is survived by his sons Stanley Cleary and wife Delores, Jesse (Bud) Cleary; his brother Blaine; sister Norma; grandchildren Christy Fairservice and her husband Jim, Angela, Daniel Clark and his girlfriend Kristie; Diedre Volk, Richard and his wife Anel, Ashley; and several great grandchildren; nieces and nephews.
Graveside services with military honors will be held at a later date at Oak Grove Cemetery, Gardiner. In lieu of flowers please send donations in Jerry's memory to the Maine General Health,Harold Alfond Center for Cancer Care, C/O Office of Philanthropy, PO Box 828, Waterville, ME 04903.