« Obituaries | Adam Donald Caron
Adam Donald Caron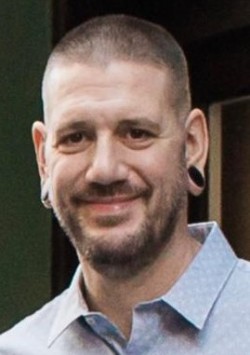 Date of Death: November 30, 2018
Date of Birth: September 11, 1974
Biography:
Adam Donald Caron, 44 of Lewiston, with his parents by his side, passed away peacefully at home after a brief illness on November 30, 2018. He was born on September 11, 1974 in Lewiston, Maine to Roger and Joline Caron. He came into the world hungry and his passion for food would later in life lead him to a career as a chef working at numerous restaurants on the East Coast.
He graduated from Lewiston High School in 1992 and went on to study Culinary Arts at Johnson & Wales University in Providence, Rhode Island.
From the time he was young, Adam loved being mobile. His bike was his escape and later he graduated to his Honda Gyro, which led to, much to the chagrin of his mother, faster and more powerful motorcycles over the years. He was a lover of all things Volkswagen and alongside his father, spent a lot of time working on and fixing his various and beloved GTI's.
Adam loved music of many different genres. Throughout his childhood and high school years, he excelled as a swimmer. Adam's beloved dog Blitz was a large part of his heart and when Blitz passed away Adam felt he'd truly lost his best friend.
Adam's life was not always easy, he struggled with many ups and down with his physical and mental health. However, those who knew him well knew that these struggles did not define who he was as a person. Adam's kind heart and caring soul defined him; his sense of humor, most often sarcastic, was a large part of who he was. Though he struggled, he was always compassionate to those around him and although it was not always easy for him to show it, his love for his family and friends was clearly evident in all he did.
Adam is survived by and will be cherished, loved and remembered always by his father, Roger Caron and mother Joline (Martel) Caron of Lewiston, ME., his sister, Michelle (Caron) Findlay, her husband Iain and nephew Aidan of Phoenix, AZ. Numerous aunts, uncles, cousins and friends will hold him close in their hearts. Adam was predeceased by his maternal grandparents Robert and Lena Martel; his paternal grandparents Lawrence and Germaine Caron; his uncle Ronald Caron and aunt Sylvia Caron and by his beloved Blitz.  Visting hours will be held on Wednesday, December 5 from 5-7 p.m. at Funeral Alternatives, 25 Tampa Street, Lewiston.  A Mass of Christian Burial will be celebrated on Thursday, December 6 at 1 p.m. at Holy Family Church, 607 Sabattus Street, Lewiston.  Burial will be private. 
In lieu of flowers, memorial donations may be made to the Greater Androscoggin Humane Society at www.gahumaned.org or sent to Greater Androscoggin Humane Society, 55 Strawberry Avenue, Lewiston, Maine 04240