« Obituaries | Irene Rita Brissette
Irene Rita Brissette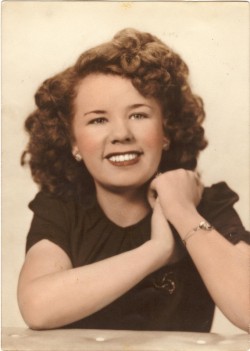 Date of Death: June 1, 2010
Date of Birth: August 4, 1927
Biography:
LISBON – Irene Rita Brissette, 82, of Lisbon, passed away peacefully at her home on June 1st, 2010 with her family by her side.
She was born on August 4, 1927 in Lewiston, the daughter of Emile A. and Rose A. (Duchesneau) Binette.
Irene enjoyed working in her flower garden, watching her grandchildren and great-grandchildren in the swimming pool, spending time with family and having family gatherings, and she loved the Lord.
She is survived by her loving husband of 63 years, Joseph; sons Daniel Brissette and wife Anita, Paul Brissette, Gary Brissette and wife Debbie, Ted Brissette and wife Janice, Bill Brissette; daughter Diane Rines and husband Pudgy; sister Simone Brissette; 13 grandchildren; 20 great-grandchildren; and many nieces and nephews. She was predeceased by her sister Germaine Perrier; brothers Renee and Romeo Binette.
The family would like to thank the Androscoggin Home Hospice staff for the wonderful care they provided.
Family and friends are invited to a memorial service on Saturday, June 5th, 10 AM, at Fellowship Church, Greene. In lieu of flowers, donations are preferred to the Androscoggin Home Care & Hospice, 15 Strawberry Avenue, Lewiston, Me 04240.