« Obituaries | Sylvia Bazley
Sylvia Bazley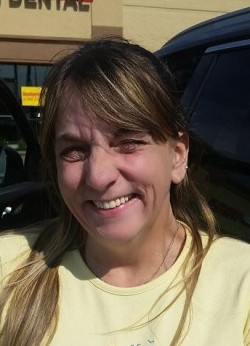 Date of Death: July 21, 2016
Date of Birth: October 15, 1964
Biography:
Sylvia Bazley was peacefully granted her angel wings, in her sleep, on July 21, 2016 after an exhausting battle with cancer.  She faced her daily struggles with determination and courage.  Sylvia managed to retain her sense of humor, as well as her undying compassion for the wellbeing of the people surrounding her.  She was greatly admired by her family and friends for her unfailing courageous acceptance of her diminishing health with amazing grace and dignity.  Her final days were spent surrounded by family and friends which she had cherished throughout her life.  Sylvia passed under the loving care of the nurses of the critical care unit of Maine Medical Center.
Sylvia was born in Augusta and grew up in Winthrop, where she attended school.  She spent most of her life in the Bath/Brunswick area, surrounded by people she loved.  Sylvia, was a loving mother, grandmother, sister and dearest friend.  Her grandchildren were her pride and joy.  One of her strongest passions was kindness towards others.  Sylvia enjoyed camping, going to the beach, and driving around town visiting.  On Monday night's she could always be found watching her favorite television show:  wrestling.   She was an avid coffee drinker and was often playing skipbo or games on her laptop, at the kitchen table.  More than anything, Sylvia enjoyed spending time with loved ones and had a passion for life.  Her humor, wit, warmth and gentle nature will be remembered and missed by all that knew her. 
Loved ones that cleared the path for Sylvia were her father Francis Bazley, mother Freda (Foss) Belyea, sister Diana Bazley, step-sisters Aletcia Knox, Rebecca Frost, Cheryl Oliver, step-brothers Merlin Knox, and Raynard Knox.
Sylvia is survived by her son Lawrence J. Hall Jr and wife Morgan and three grandsons Riley, Logan, and Gavin of West Gardiner Maine, daughters Samantha L. Hall and wife Becky and two grandchildren Alexia and Konnor of Hollis Center Maine, and Katrina F. Wentworth and four grandchildren Haley, William, Zachariah, and Harlie of Sedalia, Missouri. 
She is also survived by sisters Cynthia Speller of Apache Junction, Arizona, Linda Burnell of Augusta Maine, Darlene Wheaton of Augusta Maine, Leona Aguilar of Augusta Maine, and step-sisters Christine Fournier of Livermore Falls Maine, and step-brother Richard Knox of Searsport Maine.
Friends and family are welcome to attend visiting hours on Friday, July 29th from 6:00pm to 9:00pm at Funeral Alternatives, 25 Tampa St. Lewiston, ME 04240.  This will be a time for friends and family to speak and share memories.  A burial service will be held privately, at a later date.
In lieu of flowers memorial donations may be made to: Samantha Hall, 26 Bear Hill Rd, Hollis Center, ME 04042.