« Obituaries | Roberta M. Alden
Roberta M. Alden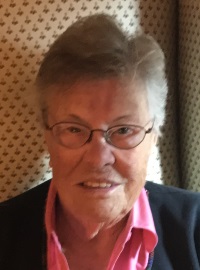 Date of Death: April 13, 2019
Date of Birth: September 21, 1925
Biography:
YARMOUTH – Roberta M. Alden, 93, of Yarmouth passed away on April 13, 2019. She was born on September 21, 1925 in E. Vassalboro, ME the daughter of Harold and Dorothy Marden.
Roberta graduated from Waterville High School, the class of 1943. She attended Colby College and Katherine Gibbs School in Boston, graduating in 1946. In 1947 Roberta married Raymond Alden on May 10th. Roberta was a secretary at San Luis Obispo University  while Ray was in School. They lived in various locations before settling in Yarmouth, Maine from 1962 until her death. She and her family were lifetime summer residents of Ocean Point where Roberta swam and sailed in the ocean. This was her heaven on Earth.
Roberta loved her Lord & Savior, was involved in her Church, the Lions Club, Fortnightly Club, and the Boy and Girl Scouts. She was a substitute teacher and a school secretary in Yarmouth. Roberta touched many lives and was loved by her family. She left a lasting impression at Bay Square Yarmouth.
Roberta's family spent her last evening with her and she was the queen of the ball before leaping into Jesus' arms. We all miss you, Nana.
Roberta leaves three children, John W. and wife Cindy, Laurel, and Raymond and wife Laurie; six grandchildren, Rebecca and John Alden Jr; Skyler and Christopher Eddings and their dad Shawn; Raymond and Spencer Alden; three great grandchildren, Oliver Alden-Vail and Julian and Griffin Alden.
The family wishes to thank Bay Square of Yarmouth for the love and tender care Roberta received.
There will be a family service on Mother's Day with a reception in the summer.